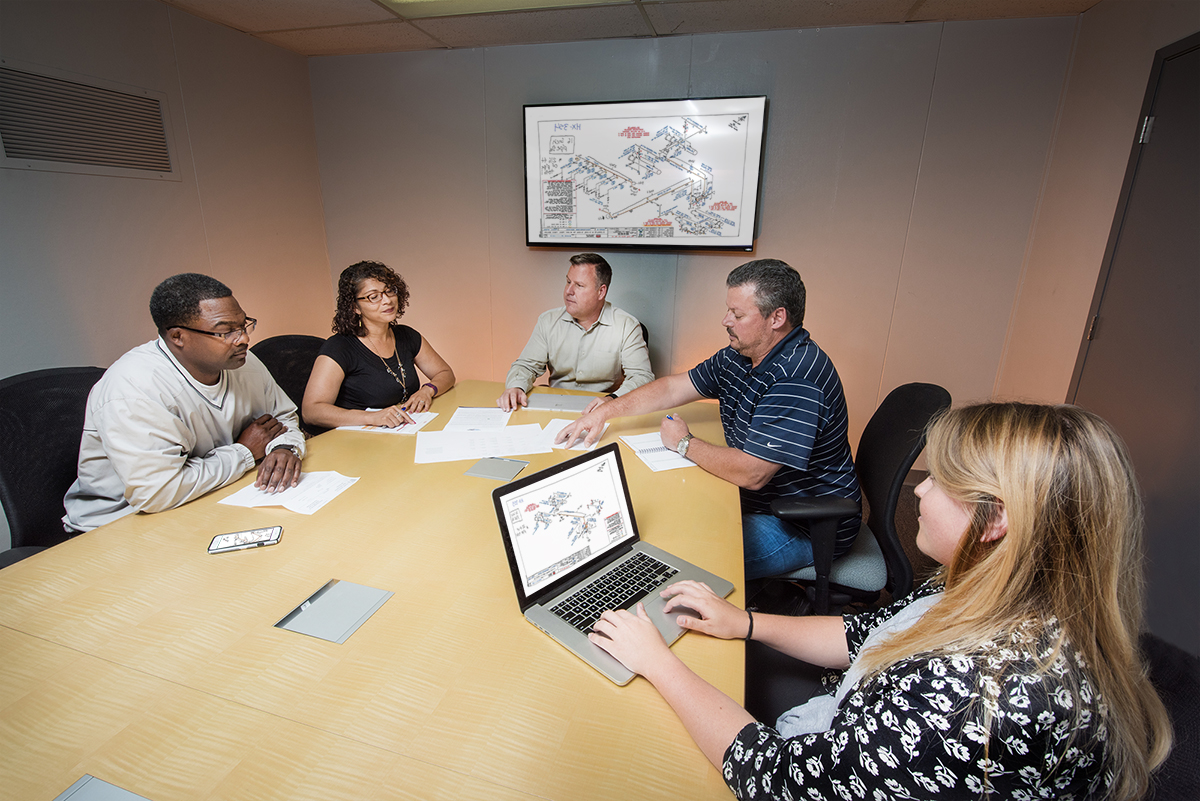 PETROCHEM CAREERS
Petrochem seeks to hire individuals who have the experience, enthusiasm, and dedication to contribute to our future growth and success. We offer a wide range of nationwide career opportunities for those who are eager to develop their skills and contribute their best efforts to building a long-term career with us. Our goal is to attract and retain the best talent in the industry, and we look for energetic, reliable, and motivated people with diverse talents who share our corporate values.
Our employees are the source of our success, and they share our commitment to our customers. Each Petrochem project begins with a team of dedicated professionals who are specialists in industrial construction jobs involving insulation, scaffolding, industrial metal structures, painting & coatings, removable blankets, asbestos & lead abatement, fireproofing, and heat tracing. Individuals with skills in project management, estimating, accounting, marketing, and human resources also play key roles as team.
---
Petrochem's generous employment benefits include:
Group welfare benefits (medical, dental, vision, life insurance)
401(k) plan
Nine paid holidays
Referral bonuses
Paid time off or vacation account
Training
Petrochem utilizes our Parent company, Arctic Slope Regional Corporation's (ASRC) hiring platform, iRecruitment. To apply, please click on the job position and you will be directed to iRecruitment. Search "Petrochem" under Keywords to pull up all Petrochem job openings. Then click on the job of interest and you will be prompted to register on iRecruitment. Once registered follow the steps to apply. You can also email your resume to jobs@petrocheminc.com. If interested in applying for a craft position, please contact the local branch or office directly.
Petrochem participates in E-Verify and is an Equal Opportunity, Affirmative Action Employer.
NOR CAL/WESTERN BRANCH

- Branch Manager
- Project Manager Assistant
- Senior Project Manager
- Insulation Craftsman California Certified Journeymen (TWIC & RSO/DSOP Required)
- Industrial Painting & Coatings Craftsman California Certified Journeymen (TWIC & RSO/DSOP Required)
- Scaffold Builders California Certified Journeymen (TWIC & RSO/DSOP Required)
- Skilled Helpers
- Unskilled Helpers

UTAH OFFICE

No Current Openings

NORTHWEST BRANCH

- Insulation Craftsman Journeymen (TWIC Required)
- Industrial Painting & Coatings Craftsmen Journeymen (TWIC Required)
- Scaffold Builders (TWIC Required)
- Skilled Helpers
- Unskilled Helpers

OREGON OFFICE

- Insulation Craftsmen (TWIC Required)
- Industrial Painting & Coatings Craftsmen (TWIC Required)
- Scaffold Builders (TWIC Required)
- Skilled Helpers
- Unskilled Helpers

SEATTLE OFFICE

- Insulation Craftsmen (TWIC Required)
- Industrial Painting & Coatings Craftsmen (TWIC Required)
- Scaffold Builders (TWIC Required)
- Skilled Helpers
- Unskilled Helpers

ALASKA OFFICE

No Current Openings

SO CAL/SW BRANCH

- Scaffold Project Manager/Estimator
- Insulation Craftsman California Certified Journeymen (TWIC & RSO/DSOP Required)
- Industrial Painting & Coatings Craftsman California Certified Journeymen (TWIC & RSO/DSOP Required)
- Scaffold Builders California Certified Journeymen (TWIC & RSO/DSOP Required)
- Skilled Helpers
- Unskilled Helpers

MID-AMERICA BRANCH

No Current Openings

COLORADO OFFICE

No Current Openings

LOUISIANA OFFICE

No Current Openings